Colored Mushroom Bong - 10in
16
ENTRIES
Use code
DEC22
and take
15% OFF
Free Discreet shipping
Arrive by: Thursday, Dec 08 - Tuesday, Dec 13
Fastest delivery: Wednesday, Dec 07
A mushroom masterpiece
😊 10-inch mushroom bong
😊 Made of borosilicate glass
😊 Beautiful and unique shaped chamber
😊 Circle and mini showerhead percs for incredible filtration
😊 14mm female joint
😊 Sturdy base
Use code
DEC22
and take
15% OFF
All Products Are Shipped Discreetly From USA
Description
Probably one of the most beautiful pieces around, the Colored Mushroom Bong is an absolute masterpiece right at first glance. This 10-inch glass bong displays intricate details of a mushroom that is nestled inside of a unique-shaped chamber that you won't see on a normal bong. With a deep and sophisticated color scheme, this mushroom bong is easy to use as a decorative piece that will prompt curiosity and a spontaneous smoke session. The circle and showerhead percs resembling mini mushrooms makes this glass bong a true form of art that will have you getting high and admiring its incredible functionality. Surprise your mind with a long and magical mushroom bong ride.
Specifications
Brand - EF420
Material - Glass
Height - 10"
Width - 4.5"
Weight - 13.6 oz
Style - Bong
Joint - 14mm female
Includes - 14mm male bowl
*This bong may also be used as a dab rig; a banger is not included with this item
Customer Reviews
Write a Review
Ask a Question
Filter Reviews:
purchase
piece
size
bong
hits
ef420
water
function
Jess
bottom
very cute !
It's such a good piece, hits smooth, the only issue is that the bowl came cracked which makes it super easy to break, considering the glass is already very thin :( besides that, it's excellent :)
05/30/2022
Anonymous

United States
love love love
I really love my mushroom bong!! It's not too big or too small, and also it's just too cute!! I would attach a photo but i've already dirtied it up so much (lol), but it's exactly as photographed in the listing. It has smooth hits, and it only takes a couple to be blazed af. love it :) Also!! It came in within a week and was packaged very securely with no breaks. This was my first purchase from Everything420 so I was a lil skeptic but they're the real deal!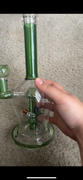 01/18/2022
GAR

United States
Power Up and Blasting Off
Ordered this as a follow up to the mini-bong (6" tall) from EF420 that I got last year for $4.20 and was a HIT with the household. Utterly blown away. I have to take it easy in many ways, but this thing is a hoot. Every time is a surprise. Every time is different, but never a bad time is had. HEAVY HITTER, cool design, lots of options with the carb and the slide bowl. The center fixture bubbler really upgrades the water pipe game. SUPER HAPPY with this purchase. Cannot recommend it enough.
01/09/2022
Nick J.

United States
Wicked Piece
Super cool piece hits really smooth & yes the cloud coverage is amazing making lots & lots of smoke trails with this killer piece once again another great purchase from E.T420
01/09/2022
Anonymous

United States
Love it!!
Hits great and super easy to clean. Also love the amount of water it holds!!