The Grappa Dab Rig - 5in
14
ENTRIES
BLACKFRIDAY22
🎉 Blaze up for BFCM 🎉
Use code BLACKFRIDAY22 for 35% OFF
Free Discreet shipping
Arrive by: Friday, Dec 02 - Wednesday, Dec 07
Fastest delivery: Thursday, Dec 01
The Grappa is guapa!
🌀 5-inch small dab rig
🌀 Durable borosilicate glass 
🌀 Simple, elegant design
🌀 Lightweight and travel-friendly 
🌀 14mm female joint
🌀 90° male quartz banger nail
🌀 Easy to clean
BLACKFRIDAY22
🎉 Blaze up for BFCM 🎉
Use code BLACKFRIDAY22 for 35% OFF
All Products Are Shipped Discreetly From USA
Description
After a hearty meal of rigatoni alla bolognese Italians reach for Grappa, a delicious Italian brandy that conveniently helps with digestion and brings family together into the early morning hours. This portable dab rig might look particularly special, but similar to the iconic digestivo, it's a perfectly potent ritual in small doses. With its simplistic build, this portable dab rig features a dual-chamber design to create a whirlpool effect. Bigger isn't always better, and the Grappa dab rig is proof as it distills only the highest quality hits! Only six inches in height, feel free to carry this mini dab rig around with you as a travel companion. Pack this baby up, go on a hike with friends and enjoy some dabs with a view!
Specifications
Brand - EF420
Material - Glass
Length - 5"
Width - 4.5"
Joint Size - 14mm female
Weight - 7.7 oz
Style - Dab Rig
Customer Reviews
Write a Review
Ask a Question
Filter Reviews:
volume rig
recyclers
descriptions
experimentation
punch
zero
filtration
dab rig
anyone
bong water
09/07/2021
John B.

United States
Compact Grippa
FUNCTIONAL N COMPACT!
08/30/2021
Michael F.

United States
Perfect little rig
Amazing dab rig that hits incredibly smooth and will get you higher than ever. It may be small but it packs a massive punch. The shipping was very fast and it had zero damage what so ever.
08/02/2021
Craig A.

United States
Look No Further!
Years of experience and experimentation have taught me that bigger is not always better. As the volume inside a bong / increases the smoke begins to taste stale. This little gem doesn't allow that to happen, it tastes cool and fresh. Low volume also makes it easier to clear the smoke at the end of a hit. Most descriptions of recyclers talk about more filtration, cooler smoke, etc. I disagree. Anyone that has ever had a taste of nasty bong water knows the real reason for a recycler. It keeps the water out of your mouth. Since this is a low volume rig the recycler bit is that much more important. It doesn't hurt that is is also attractive. This is a sweet little rig, in my opinion near perfect. I'd recommend this to anyone!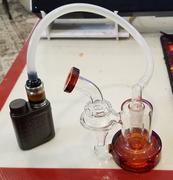 05/27/2021
Staci C.

United States
So smooth
I love it! Want to invest in a bigger rig now
01/01/2021
Miranda D.

US
Love it!
Has awesome function and is my first rig, I love it