Tall AF Bong - 30in
54
ENTRIES
Use code
NOV22
and take
15% OFF
Free Discreet shipping
Arrive by: Wednesday, Nov 30 - Monday, Dec 05
Fastest delivery: Tuesday, Nov 29
Colossal, high quality beaker-style bong with ice catcher
Go big or go home with the ginormous Tall AF Bong. The classic beaker base and mouthpiece are decorated with unique hand-blown borosilicate glass designs that come in a choice of four colors. That crazy-tall chamber is more than just for show - it will go far in cooling smoke and vapors as they make the long trip home up to the mouthpiece. There is also an ice catcher at the top of the beaker base, so you can experience gargantuan hits of epic proportions that won't burn your throat or make you cough. This bong may be Tall AF, but the beaker style base and sturdy scientific glass will make sure you aren't yelling "Timber!" while you use it. Trust us, this skyscraper of a bong world will have your head in the clouds in no time.
🦒 Downstem - 5.5"
🦒 Trippy design - Hand-blown Swirling Colored Glass
🦒 14mm female joint
🦒 bowl included
🦒 Freakin' huge bong - Whopping 30 Inches tall
🦒 Scientific Borosilicate Glass
🦒 Sturdy -  5.37lbs Weight
🦒 Big fat rips - Beaker Style Glass Bong
🦒 Easy cleaning - Removable Downstem
🦒 Muricah - Made in the USA 🇺🇸
Use code
NOV22
and take
15% OFF
All Products Are Shipped Discreetly From USA
Customer Reviews
Write a Review
Ask a Question
Filter Reviews:
three
sale
Tesla
gift
pipe
tray
bowls
shooter
march
order
05/13/2021
Anonymous

United States
Super dope; my boyfriend loves it!!
Super great and hits smooth!! It's just like advertised and comes up to my ribcage (5'0) and a little underneath his waist (5'9) Will have you absolutely floating, if you buy anything from the site, I reccomend this absolute tower!
05/04/2021
David R.

United States
Awesome customer service and great products!
Great customer service by Tish, replaced my piece that came broken quickly with no questions and LOVE the gifts!!!! Thanks so much!
04/20/2021
Thomas L.

United States
Buy one now
I have a 24 straight tube with the same pattern (on the far right) but I broke the joint off. I was on the search for a decent priced large bong as of late and found this one on the website . I got the 18 inch straight shooter (center) 15% off for my first order back in march and saw this at the time but hesitated. Decided to use 20% off April code I ordered it , 2 of the red horned bowls, and the Tesla rolling tray on a Wednesday morning and arrived fast on monday morning. It's about 36 inches tall as you can see from the pic ,but I'm not complaining. Needless to say i love the way they look together. Pickle rick pipe came as free gift. Decided to get two more last night for the 420 40% off sale special. Buy one NOW! or two ....or three . You wont regret it.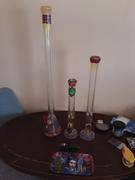 04/13/2021
Anthony M.

US
Great item
Great item sold instantly
04/07/2021
Javin E.

US
Deadly
If you don't stand around 6 ft tall you'll need a second person to be able to hit this however this thing ******* KILLS, I've been ripping dabs big and small from this bad boy and each time it's like I didn't even take a rip then BOOM I'm getting smacked in the had by a smooth cool dab definitely worth the money.